News :: Fundraisers for Carly Meyer set for Thursday and Friday September 5th & 6th

·

September 5th, 2019
Photos (2) View All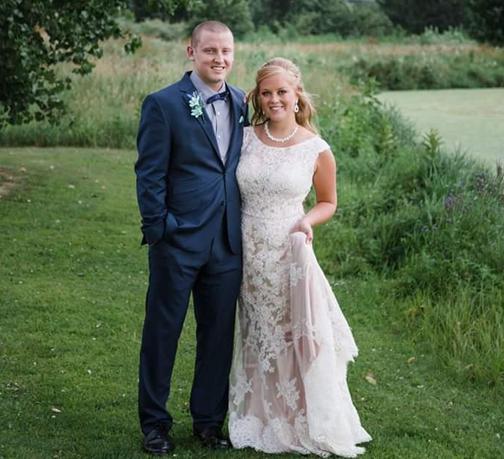 On August 4, 2018, it was the best day of their lives as Wes and Carly Meyer said, "I do." In their short time together, the two have faced challenges that are reserved for those that have been together much longer might face. It started with the loss of their baby due to a miscarriage in May.
In August just a few days after their first anniversary together, Carly was admitted to the hospital due to complications and a blood infection from the miscarriage. After starting at the local Virginia Gay Hospital then being sent on to St. Lukes and later being transported to the University of Iowa, it was discovered that Carly had Acute Myeloid Leukemia.
Carly has already had her first chemotherapy treatment and will remain hospitalized for a minimum of 30 days. Wes explained that the chemotherapy will circulate through Carly's body keeping her blood cell count low causing a need for hemoglobin and platelet transfusions to counteract the treatment which destroys the good blood cells. Carly will have another bone marrow biopsy to check the progress of the treatment.
Wes works as a police officer with the Vinton Police Department and Carly is a Kindergarten teacher at Tilford. Like any teacher, she said, "It's hard not being able to start the year with my kiddos!"
A community effort is underway to send a little love and support to the couple.
The Vinton-Shellsburg Girls' Volleyball team will be hosting a benefit for Carly on Thursday, September 5th at the High School Gym. The Volleyball team will be wearing "Courage for Carly – teaching cancer a lesson" shirts that they will be wearing.
There will be many events throughout the evening. A Silent Auction (so far there are 20 baskets of goodies up for auction at the event), Bake Sale, and some of the local police officers have volunteered to be dunked as part of the fundraising effort.
The Silent Auction will run from 5-7:45 pm.
There will also be a place that you can simply make a donation at the volleyball game.
There will be a second event at the first home Football game of the season on Friday, September 6th. There will be a silent auction and so far about 20 baskets available here too.
The auction on Friday will run from 5-7:45 p.m.

Some items on Friday night's auction include a 30" Murray Lawnmower and a commercial-grade leaf blower.
If you would like to make a donation, you can contact Tressa Walton at tressawalton16@gmail.com. Donations need to be dropped off by Tuesday, September 3rd.
The couple asked me to let you know that they are extremely grateful and appreciative of all the love and support that they have received. Folks, keep this couple in your prayers as they face this challenge together...
advertisement
advertisement
advertisement
advertisement
advertisement
advertisement
advertisement
advertisement