News :: Easton Lindeman gets a visit from the Pink Fire Truck

·

November 24th, 2020
Photos (2) View All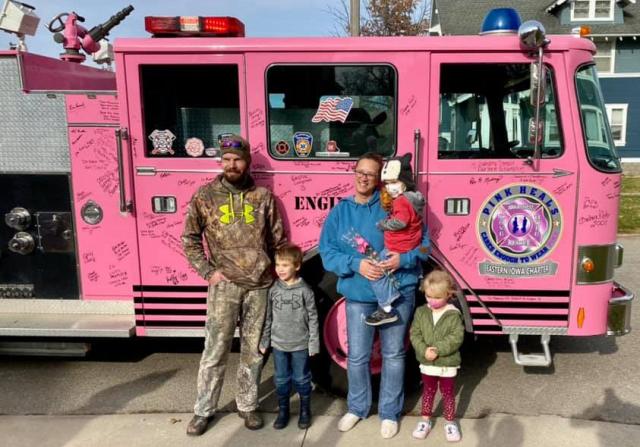 This past February, Easton Lindeman then age 2, son of Corey and Samantha was diagnosed with high-risk neuroblastoma, a type of cancer that affects his adrenal glands, spinal column, and bone marrow. Neuroblastoma is a cancer that develops from immature nerve cells found in several areas of the body. Treatment for Easton started right away. This was followed by hospitalizations for both treatments and illnesses. So far he has gone through 3 rounds of chemotherapy and IMIBG therapy at the University of Wisconsin. IMIBG Therapy is a form of radiation treatment. This was followed by more chemotherapy and surgery to try to remove as much of the tumor as possible. 
The last time we talked with Easton's mom he was finishing up with his 6th round of high dose chemotherapy and stem cell transplant.
He has had countless blood and platelet transfusions, ECHO's, hearing tests, MRI's, CT scans, X-Rays, bone marrow biopsies, surgeries and sedations. PICC line placements and Port Access placement. Earlier this month, Easton took a trip to the Mayo Clinic for more treatment. 
On Saturday, Easton had a very special treat. The pink firetruck, overseen by Dennis and Diana Brammow made a stop to see Easton. 
Easton is 3 years old now and his mom said that he loves to pass out candy to the doctors in and nurse friends while he's in the hospital. Like most 3 year old, there isn't a lot that slows him down. At 3 he's a family man already. Tagging around after his big brother Hunter and cousin Eleanor and he's always thrilled to visit his Grandpa and Grandma Dough and Dawn Yenser. 
advertisement
advertisement
advertisement
advertisement
advertisement
advertisement
advertisement
advertisement